Sifu Peggy McRitchie - Director & Head Instructor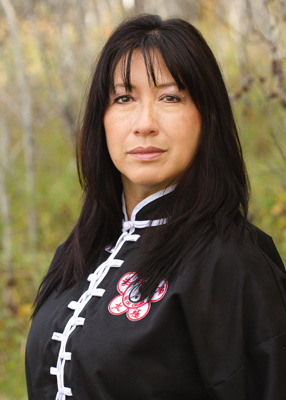 Sifu Peggy McRitchie has been involved in Chinese martial arts for over 35 years.
Her Martial Arts training started at the age of 9 , under the direction of her father, a well- known & respected figure in the
Chinese Martial Arts community, Paatje Richard Kudding, Head Instructor of the Flying Dragon Institute.

An avid competitor, Sifu Peggy has over the years, won numerous 1st place trophies & medals in Black Belt divisions at Martial Arts events both local and international tournaments.

Sifu Peggy has been teaching for over 25 years, and she is the Director and Head Instructor of the Winnipeg Plum Blossom Martial Arts Academy.

Sifu Peggy's professional background includes her role for many years as a Community Home Care Nurse, specializing in Palliative Care Nursing. She also held a position as a Volunteer and Community Education Development Coordinator with Hospice & Palliative Care MB., but recently left to pursue her dream of turning her part time passion of teaching Martial Arts, into running a Martial Arts School on a full time basis.

As the Director & Head Instructor of the Winnipeg Plum Blossom Kwoon, her focus is overseeing the continued growth of her martial arts school, planning & developing of the program curriculum content, and teaching the many weekly Tai Chi, Kung Fu, and Women's Kardio Kix programs with the assistance of both Senior Black Belt & Senior Students Instructors.

She also coordinates many special community events, such as the Annual for Kids only Martial Arts Challenge, which for 9 years, has brought together over 150 kids & parents from various other Martial Arts schools. The goal of this successful Martial Arts Challenge, is to provide a supportive, friendly & positive environment for kids. This event builds unity and camaraderie amongst all the young martial artists in attendance. This shines through, to provide our future leaders with a deepened respect and understanding of their arts.

In recent years, numerous business & social organizations, have started to implement Tai Chi as part of self- care for their staff in-service & retreats. Sifu Peggy enjoys facilitating the many requests from community and abroad, for her popular interactive, and fun Tai Chi workshops and seminars.
She leads by example, and has shown numerous groups of people that you can start exercise at any age, and you should view this as a investment in your health!

Sifu Peggy also enjoys sharing her knowledge, passion and skills in promoting the importance of Self Defense & Awareness for women and teens, thru her Women's Self Defense Program. She has facilitated numerous successful full & half day workshop on the topics of Awareness, Boundaries and practical Self Defense skills. And has presented to women of all ages, in many different work places and organizations both in Winnipeg and abroad.

She continues her own earnest study of the Yang Tai Chi & Choy Li Fut Kung Fu system under the direction of Grandmaster Doc Fai Wong, her Sifu and President of the well- known Plum Blossom Federation, located in San Francisco , CA.