Sifu Les McWha 
Sifu Les - Known for his mastery of the
single and double sword technique
Sifu Les began training at the Original "Northern Wind Kung Fu School" in 1983, and was one of the original students of that renowned training ensemble. Sifu Les has trained in Choy Li Fut Kung Fu, Lion Dance and Self Defense for over 25 years. He received his Black sash in 1986, and his Senior Level – Black Sash – Instructor Degree in 2001.
A patient and knowledgeable instructor, he is an invaluable resource for the Senior Ranks Class and also devotes much of his time training the Advanced Full Contact group class.
Sifu Les is an outstanding competitor and has won numerous tournaments; he possesses many Tournament Grand Championship Awards to his credit. This competitors savvy is shared with students as he also devotes much of his time to training our Women's tournament Team.
Sifu Les is a dynamic practitioner and is known for his fluid and powerful presentation when performing his Kung Fu. He is also known for his mastery of the Single Saber and 9 Section Steel Whip of Choy Li Fut Kung Fu.
Sifu Les continues to study and train in the art of Choy Li Fut Kung Fu, and Adrenal Stress – Reality Based Self Defense Concepts.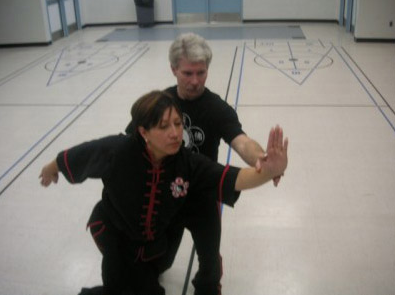 A patient teacher - working with Simo Peggy on her Tiger Fist set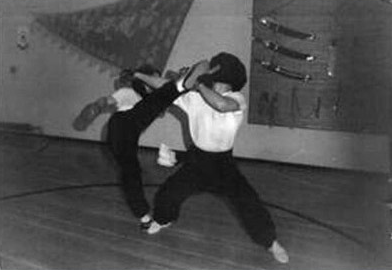 Sifu Les delivers high kick in full contact match - 1987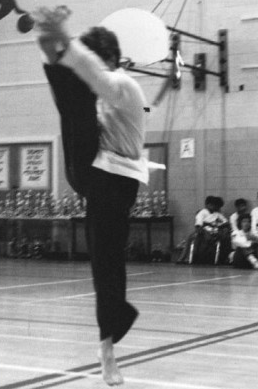 Tournament 1984 - Sifu Les is a well known tournament champion, and excelled
in Fighting and Forms divisions.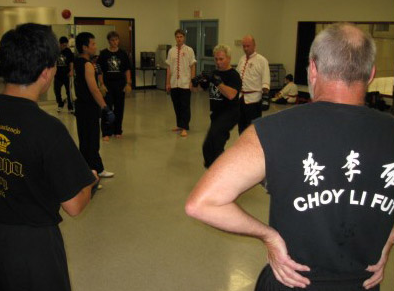 Sifu Les is a Hands On type teacher. Here he is instructing, and
mixing it up with Senior Students, in the Full Contact class.