PARENTS & KIDS KUNG FU
(Ages 5 and up)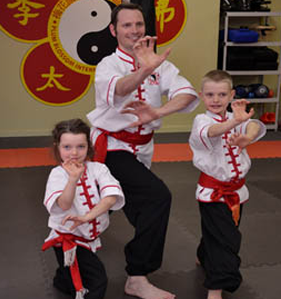 "FAMILIES THAT KICK TOGETHER, STICK TOGETHER"
In today's hectic world, parents are looking for activities that allow quality family time together. Here at Plum Blossom we offer the highly successful "Parent & Kids" Kung Fu Program. Our 3,500 sq. ft training facility allows for Adult and Kids Kung Fu classes to run simultaneously, thus giving the parent and child the ability to train side by side. Parents appreciate the ability to achieve their own personal training goals, and at the same time know that their children are participating in close proximity. The Beginner Adult and Kids Kung Fu curriculum share many similarities and basic skills. We encourage families to help each other train in and out of the "classroom". We have been told by the families currently training at our school that this has been very powerful way to stay connected with each other, and to reinforce and achieve training goals together as a family.
The Pros of Training as a Family
Get away from technology (e.g. TVs, computers, cell phones) and get active! Stop making excuses, putting your family's health on the back burner!
Get the family back into shape. Parents present a positive role model by training on a consistent basis. What the kids see is what the kids will do.
Make time for your own personal training! Do something positive for yourself without feeling guilty. Train alongside your child, and progress and improve together.
Why SIT and watch you kids train, when you can be joining the other parents having fun and getting in shape at the same time!
Start today! Discounted family rates available. Call for details: (204) 791-6146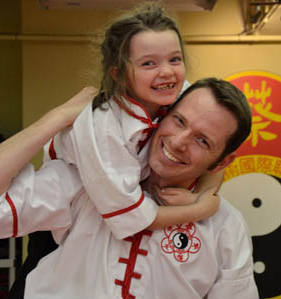 Call - (204) 226-5969

and start today!